Central and East Contra Costa County CEASEFIRE hosted an open forum and night walk on Saturday at Renewed Strength Ministries (Ministerios Fuerzas Renovadas) in the City of Antioch.
The event featured speakers from the community, faith leaders, and members of law enforcement to promote strategies hoping to bring an end to gun violence.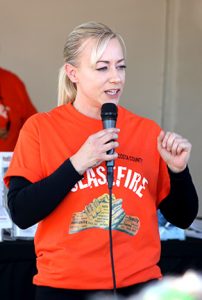 "Our goal here is two fold. One, is to end gun violence and also to heal and strengthen the neighborhoods and families who have already been traumatized by gun violence," said Sergeant Cassidy Wilkerson of Pittsburg Police Department.
Wilkerson explained how this program was not actually a police program being offered, but rather a program that was going to be community driven once it is in place and that the community has the power to ensure it grows and it begins to call for less gun violence.
She said faith based organizations and the community will continue to work together to expand the program and messaging to help take guns off the street.
Also in attendance was Captain Tony Morefield of the Antioch Police Department, who spoke of a need for stronger relationships between law enforcement and community members.
"We're so proud of this community for taking this step. We are so proud to see so many people out here…One of Chief Brooks's main focuses was the idea of community engagement. He is extremely passionate about it and he has impressed that same passion onto all of his command staff and all of his officers. It is something we take very seriously," said Morefield.
Testimonies shared at the event shed light on the impacts of gun violence in all areas of a community.
"Every gang banger, every tough guy, every victim, everybody who carries a gun, everybody who gets high…at one point in time they were a child. And something happened in their lives to transform everything. That's why we do what we do," said Gabriel M, during his speech at the event.
Another particularly moving story was shared by Morefield. He recalled an experience from his career in which a small child was exposed to gun violence.
"As I burst in the door of this bedroom, there standing on the bed was this little boy. He's maybe five and he is terrified, absolutely terrified. He didn't know who we were…we were scary men wearing black masks, body armor and carrying assault rifles," said Morefield.
In that moment, Morefield recognized the impact that situation would have on the child, and his instincts took over.
"I could not take off that body armor, I could not drop that assault rifle, I couldn't do it fast enough. I pulled that helmet off, I dropped my body armor, I even took uniform top off just so that he could see me as a human being, so that he knew I wasn't some monster," said Morefield.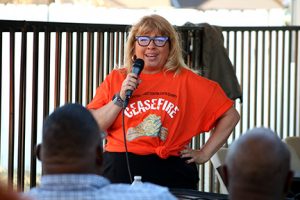 Contra Costa County Board of Supervisor Diane Burgis also spoke at the event lending her support of the program while sharing her experience as a youth and the police assisting her family.
As the speakers concluded, attendees prepared for a night walk that would last an hour. The goal of the walk was to help spread a message of awareness in the community. Members held signs and chanted words of positivity as they embarked.
The group marched down to E 18th Street and Cavallo where they held signs for about 20-30 minutes sharing their message.
Events like this one will be scheduled for the remaining cities of the Central and East Bay in the upcoming weeks.
For more information on CEASEFIRE, the group meets every Thursday at 6:30pm at Renewed Strength Ministries, located at 2026 Cavallo Rd. Antioch.

Alexandra Riva is an East Contra Costa County resident who is a senior at UC Berkeley where she is pursuing a Bachelor's Degree in Media Studies with a minor in history. She is a graduate of Dozier-Libbey Medical High School in Antioch.