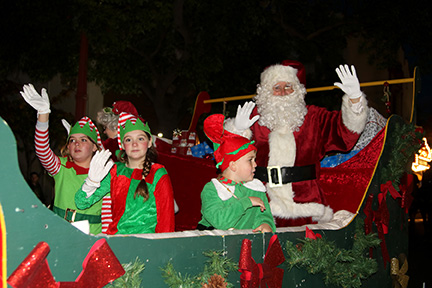 The Celebrate Antioch Foundation announced they hosted a successful parade on Saturday, December 1 and thanked the community for attending and showing support.
SCOUTS:
Winner: Girls Scouts of Northern California
CIVIC COMMUNITY SERVICE:
Winner : Nice Cans
Runner Up: Antioch Rotary Club
PATRIOTIC
Winner: Delta Veterans Group
COMMERCIAL FOR PROFIT:
Winner: Paradise Roller Skating Academy
Runner Up: The Commons at Dallas Ranch
CULTURAL –COSTUMED
MUSICAL-INSTRUMENTAL:
Co-Winner: The Pride of Antioch Panther Band
Co-Winner: Deer Valley Marching Band
CLUBS:
YOUTH/CHILDREN (NON SCOUTS)
Winner: Be Exceptional
Runner Up: YWCA Mary Rocha and Freedom Siles
DANCE/GYMNASTICS
Winner: Elite Dance
Runner Up: Melody's Dance
"All of us at Celebrate Antioch would like to thank the entire community for the year round support that we receive. It is from the donations made by our community that make these events including the 4th of July happen," said Celebrate Antioch. "We would also like to thank the hard work and time donation done by the City of Antioch to help with putting these events on. It is events like these that show the true side of Antioch, a community coming together to have a good time. Please in the future ear mark the dates the first Saturday of December and the 4th of July and come and be a part of the truly great community of Antioch!"
For more photographs, visit our Facebook Page.