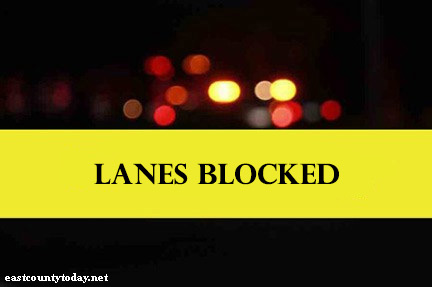 Just after 6:00 pm Sunday, East Contra Costa Fire Protection District firefighters responded to a report of a vehicle versus power pole on Byron Highway near Mountain House Road.
According to CHP, both lanes of traffic were being shut down as of 6:21 pm due to the power lines across the roadway.
Check back for updates.
Detail Information
7:12 PM
49
[122] B19-405B 1185 WILL HAVE TO 1023 FOR PGE TO DE-ENERGIZE LINES / WILL CB 1185 WHEN READY
7:00 PM
48
[112] B19-404B PGE 1097 / ADVSING WIRES AREA STILL HOT / 1184 CREW ETA 1.5-2 HRS / MAY OPEN ONE LN IN APPROX 2 HRS
6:56 PM
47
[110] RP ADV CHP NOW 10-97 W/HIM
6:56 PM
46
[109] B19-405B 1097 W/PRTY / ON GROUND
6:55 PM
45
[108] RP ADV HE IS NEXT TO THE POWER COMPANY NEAR OPEN PARK
6:49 PM
44
[102] [Notification] [CHP]-PRTY IS NOW TALKING TO RP // INVD CRYING AND ADV OTHER PRTY IN VEH TC HAD PISTOL AND WANTED TO KILL HIM [Shared]
6:47 PM
43
[101] 19-S9 VIA LL – WHEN PGE GOES 1097 — ADVS HOW LONG RDWY WILL BE CLOSED / MAY NEED TO CONTACT CALTRANS FOR CLOSURE
6:46 PM
42
[99] 10-39 11-41
6:44 PM
41
[96] [Notification] [CHP]-RP ADV SUBJ IS PASSED OUT // DOES NOT LOOK INJ [Shared]
6:43 PM
40
[93] RP ADV HE CAN SEE CHP BUT THEY ARE GOING THE WRONG WAY
6:42 PM
39
[91] CHP ETA ? [Shared]
6:41 PM
38
[87] BIG RIG W/FLASHER ON // RHS [Shared]
6:41 PM
37
[86] APPRX 100 YRS JWO TC [Shared]
6:40 PM
36
[84] [Notification] [CHP]-INVD PRTY ADV OTHERS WHO WERE IN TC W/HIM HAVE WPNS BUT HE DOES NOT [Shared]
6:39 PM
35
[79] BIG RIG WILL TURN ON FLASHERS [Shared]
6:38 PM
34
[77] VEH AND PRTY ON RHS [Shared]
6:37 PM
33
[69] ADV THEY ARE PRIOR TO TC [Shared]
6:37 PM
32
[67] RP OUT W/PRTY WHO POSS LEFT TC IN A WHI 18 WHEELER [Shared]
6:37 PM
31
[66] [Notification] [CHP]-[63] [Appended, 18:37:11] [1] LL W/PRTY WHO ADV HE IS POSS OUT W/PRTY INVD IN TC [Shared]
6:37 PM
30
[63] [Appended, 18:37:11] [1] LL W/PRTY WHO ADV HE IS POSS OUT W/PRTY INVD IN TC
6:35 PM
29
[60] B19-405B DUBLIN UNITS 1097 / BYRON WHY SHUT DOWN IN BOTH DIR / TURNING TRFC AROUND
6:34 PM
28
[59] 1185 ETA 20 / CPY LIVE WIRES / WILL CONT AND THEN 1023
6:34 PM
27
[58] B19-404B PER FIRE – PGE ETA 20
6:33 PM
26
[57] B19-404B HAVE 1185 1023 UNTIL CHP HEARS BACK FROM PGE
6:32 PM
25
[56] B118-054 WILL PROVIDE 1184/ NB IS CLOSED /ALL TRAFIC DIRECTED TO MTN HOUSE
6:32 PM
24
[55] B19-404B 1023 ON 1185 UNTIL LINE ARE DE-ENGERGIZED
6:29 PM
23
[53] 1039 PGE LINE 52
6:23 PM
22
[50] [Notification] [CHP]-1039 PGE, WILL CALLBACK WITH ETA [Shared]
6:23 PM
21
[49] [Rotation Request Comment] 1039 R LANCE TOWING 925-245-8884 SD 113
6:23 PM
20
[48] B19-404B 1185 WILL NEED TO ACCESS FROM COCO SIDE
6:21 PM
19
[47] LL 1185
6:21 PM
18
[46] PER COCO UNIT — WILL NEED TO SHUT DOWN RDWY AT MTN HOUSE DUE TO POWER LNS ACROSS RDWY
6:20 PM
17
[42] B19-404B REQ 1185 FOR FORD F150
6:17 PM
16
[38] B19-404B VEH 1124
6:17 PM
15
[36] B19-404B 1097
6:17 PM
14
[35] B19-404B VEH OFF RDWY / POWER POLE OVER RDWY / BOTH LNS SHUT DOWN /REQ SIG ALERT
6:16 PM
13
[34] B19-405B 1097
6:16 PM
12
[33] B19-405B 1097
6:05 PM
11
[30] LN 25 IS ALCO FIRE CALLED
6:03 PM
10
[27] [Appended, 18:03:55] [1] SOLO VEH INTO POLE
6:03 PM
9
[25] 1039 FIRE
6:02 PM
8
[22] PRTL BLKG WB LN
6:02 PM
7
[21] PASSERBY STATED HILLSIDE ON FIRE – XFER TO COCO FIRE
6:02 PM
6
[20] [Notification] [CHP]-BYRON JWO MT HOUSE / IN RDWY ROLLING FIRE PRE-CAUT [Shared]
6:02 PM
5
[19] LOOKS LIKE POLE IS COMING DOWN
6:01 PM
4
[9] 1039 1141
6:01 PM
3
[8] PTY APPEARED TO BE HAVING A MEDICAL EMERGENCY, STOPPED IN THE MIDDLE OF THE RD THEN DROVE INTO POLE
6:01 PM
2
[13] [Appended, 18:02:13] [1] VEH VS POWER POLE
6:00 PM
1
[1] RED PK TK VS POWER POLE