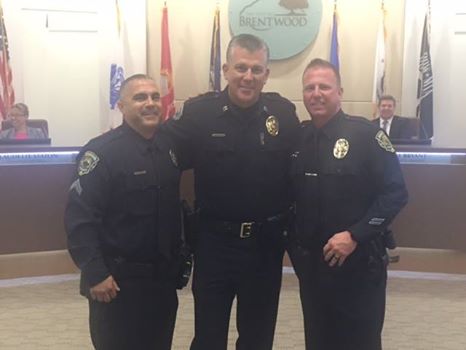 Last night, during the Brentwood City Council meeting, two Brentwood Police officers were recognized as "Office of the Year" and "Employee of the Year".
In the photo, left to right, Officer Pete Folena was named "Officer of the Year" 2016 and Officer Mitch Brouillette, far right was named "Employee of Year" 2016. Acting Chief Tom Hansen is featured center.
According to Police Lieutenant Walter O'Grodnick, Officer Pete Folena is a 17-year-veteran which includes 7-years with the Pittsburg Police Department and 10-years with Brentwood.
Meanwhile, Officer Mitch Brouillette is a 15 year-veteran which includes 11-years with Tuolumne County Sheriff's Office and 4-years with Brentwood.
Both were nominated by their peers for demonstrating outstanding leadership qualities and performance throughout the year.
The following video featured Officer Mitch Brouillette: