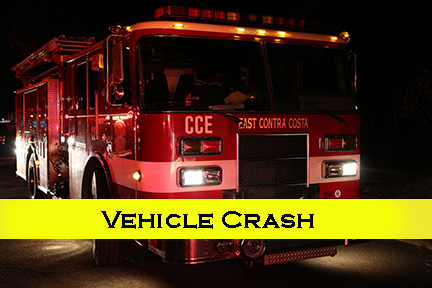 At 9:00 pm Sunday, one person was airlifted to a local hospital after a three-vehicle crash at Highway 4 and Walnut Blvd in Brentwood according to the East Contra Costa Fire Protection District.
The incident blocked the roadway as fire crews arrived on scene where they located ford pickup truck vs. a Jeep Wrangler versus a sedan—the jeep wrangler was overturned with all occupants out.
In total, five occupants were in the vehicle with one patient requiring an air ambulance with a second person ground transported. All other occupants sustained minor injuries.
CHP Log:
Detail Information
10:19 PM
16
[27] 403B – RDWY OPEN
10:16 PM
15
[23] [Notification] [CHP]-PER EAST COUNTY TOW // ANOTHER TOW PICKED UP THE FORD F350 // REQUESTING BOT [Shared]
9:44 PM
14
[21] 1039 EAST COUNTY TOW 925-439-1141 ADV CAN HANDLE F350****
9:41 PM
13
[20] 405B – REQ 1185 WHI FORD F350 SUPER DUTY
9:25 PM
12
[19] 1039 PES TOW 925-757-5657********TOYT VENZA
9:23 PM
11
[18] 405B – REQ 1185 TOYT VENZA WHI MAJ FE DMG
9:11 PM
10
[15] [Rotation Request Comment] 1039 PENAS TOWING 925-420-5907 FOR OT'D JEEP WRANGLER
9:10 PM
9
[14] LL 1185
9:10 PM
8
[13] JESS HERNANDEZ TOW CB / NEG TRK AVAIL / PASSING / ON BOTTOM
9:05 PM
7
[12] 1039 JESS HERNANDEZ TOW 925-432-3000*************
9:04 PM
6
[11] 1021PIZZAGONIS TOW /NEG RESP SKIP
9:02 PM
5
[7] 405 FROM L REQ 1185
9:00 PM
4
[4] BLKG I/S
9:00 PM
3
[3] APPRS EVERYONE IS OO THE VEH
9:00 PM
2
[2] JEEP WRANGLER O/TURNED // ON ITS SIDE
9:00 PM
1
[1] FORD PK VS JEEP WRANGLER VS SD