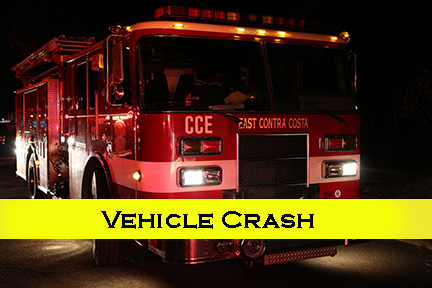 At 3:11 am Sunday, East Contra Costa Fire Protection District was dispatched to a head-on vehicle crash with two rollover vehicles on eastbound Highway 4 at Lone Tree in Brentwood.
Antioch police arrived on scene with one party confirmed trapped with at least two moderate injuries and one major injury.
By 3:19 am, Battalion Chief 5 reported 1 patient was trapped, Engine 53 was beginning extrication. He also requested the medical helicopter was going to land CALSTAR directly on scene on Highway 4.
By 3:23 am, at least 4 AMR units were requested to the scene.
By 3:31 am, CALSTAR was landing on Highway 4 and by 3:36 am, the patient was extricated from the vehicle.
By 4:02 am, units became available on scene.
By 4:41 am, CHP reported all lanes have reopened.
Here is a look at the CHP Log:
Detail Information
4:41 AM
24
[68] AFFIRM ALL LANES OPEN
4:38 AM
23
[66] C19-241C ALL LANES OPEN / RESIDUAL FLARES ARE PRESENT
3:35 AM
22
[55] 1039 CUPERTINO TOW COPIES 1 TK – 1 VEH
3:33 AM
21
[52] I ALREADY HAVE ONE TOW COMING / LINE 50
3:33 AM
20
[50] [Notification] [CHP]-***IS 1185 FB FOR 2 VEHS OK
3:32 AM
19
[49] ^***ISSUE SIGALERT*** EB 4 JWO LONE TREE WAY (BYPASS) ALL LANES ARE BLOCKED – UNK ETO – USE ALT ROUTES – REF LOG 0461
3:31 AM
18
[47] [Rotation Request Comment] 1039 CUPERTINO TOW 925-778-9292 SD 581- FB FOR 2 VEHS
3:29 AM
17
[46] LL 1185
3:29 AM
16
[45] [Rotation Request Comment] PENAS TOW * NO ANSWER
3:28 AM
15
[44] 1039 DOTCC
3:28 AM
14
[43] ==============LANES WILL BE CLOSED A WHILE / NO ETO
3:26 AM
13
[42] AND ISSUE SIG ALERT * *
3:26 AM
12
[41] HAVE 180C DIVERT TRAFFIC AT EB 4 BYPASS AT LAUREL / 180C
3:24 AM
11
[38] CANCELING BR TOW
3:23 AM
10
[37] ALL LNS BLOKCED
3:22 AM
9
[35] 241C IS EB AT LONE TREE ——— ALL LNS BLOCKED
3:21 AM
8
[32] [Notification] [CHP]-PER ANT PD // THEY ARE 1097 // MODERATE INJS // EB 4 IS SHUT AT LONE TREE **** ON THE BYPASS AT LONE TREE **** THE ARE C4
3:12 AM
7
[21] RP ADV TC WAS A HEAD ON COLLISON
3:11 AM
6
[13] DEBRI IN THE RDWY
3:10 AM
5
[4] WHI TOYT CAM VS WHI TK OT BOTH BLKG SLO LANE ***
3:10 AM
4
[6] [Appended, 03:10:53] [2] BLKING #3 LANE
3:10 AM
3
[8] [Appended, 03:10:56] [1] WHI TK ON ITS SIDE VS WHI TOYT CAM
3:10 AM
2
[2] ONE VEH ON ITS SIDE
3:09 AM
1
[1] 2 VEH INVOL