On Tuesday night, the Brentwood City Council postponed a decision that would have reduced the grant funding provided to Harvest Time in Brentwood and suspend all funding from the Agricultural Grant Program.
Under the plan proposed by Councilmembers Claudette Staton and Karen Rarey who are on the Agricultural Enterprise Committee, they were recommending a suspension of the program in favor of a new Agriculture Business Program. The result would have cut funding from Harvest Time from $15,000 down to $0 over a 3-year period.
The Committee recommend grant funding to Harvest Time in Brentwood as follows:
2018-2019: $7,500
2019-2020: $5,000
2020-2021: $2,500
The decision to delay the suspension came after the public objected to the defunding of the programs.
On Tuesday night, Councilwoman Karen Rarey stated that she appreciated the concerns of the farms and hoped they could address their concerns by moving forward with something that was equitable for everyone.
"I want to assure you we did invite a Harvest Time member to attend the meeting, president Steve Gursky, and wanted his opinion on this before we went through the suspension of the program. At the time, he had said that he felt that it was reasonable, that Harvest Time could find funding elsewhere," said Rarey. "While we are phasing out the Ag Grant program over the next 3-years, we are working to increase ag business which will increase agricultural tourism."
Rarey added that Harvest Time has received over $162,000 since the inception of the program
"I want to assure you that we are not abandoning the farmers, instead we are expanding the ways we can help you," stated Rarey while saying they recently identified the need to establish an agricultural business program. "Over the past six months I have met with several farmers to discuss plans and everyone has been excited so far. Even with the discussing this with president Gursky, he seemed to embrace what we were discussing at the time and would help with the farm tour that I have been working on."
She also shared that they were working on a "game changer" with economic development to add a Visitor and Tourism Borough for the city where visitors can call for information going on in the area.
"When we talk agritourism, we are talking Harvest Time, you guys are the heart and sole of our area. We are embracing you," said Rarey. "I am sorry if it seems like we are pushing you out into the cold, that is not what we are doing at all."
Councilmember Claudette Staton stated she considered herself a farmer and talked with Assemblyman Jim Frazier about trying to enhance the agricultural community along with Contra Costa County Board of Supervisor Diane Burgis on what could be done to improve the ordinance for the agricultural community.
"I am just here to work for you, you guys voted for me to be here. I love farming. I love the fact I can go do the U-Pick, the fresh vegetables and fruits we have here. Just the history of Brentwood, it was all about farming in the beginning," said Staton. "I don't want that to go away, so I am working for you to do whatever needs to be done to keep you happy."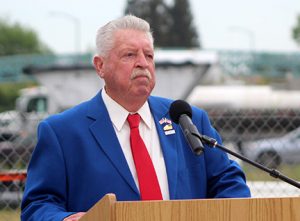 Brentwood Mayor Bob Taylor stated prior to public comments, he wanted to ensure communication was correct.
"I want to make sure we all know where we are at and we make sure the communication was right with all of us. To me, the Harvest Time is the one driving the economic, my god, I don't know how many people come out here, a couple hundred thousand people a year. It helps everyone, it helps the city, our reputation," said Taylor. "It is the heart and soul of the city."
During Public Comments, Ron Nunn stated that Harvest Time has 55 members and been around for 40-50 years.
"It sounds like the city is making a lot of new plans and those new plans sound good and fine, but still sounds like a cut in funding as far as Harvest Time is concerned," said Nunn. "I wonder why because it's the greatest PR campaign you have got."
Nunn noted how Harvest Time attracts around 250,000 people just over Memorial Day Weekend alone and suggested the city have more conversations about continuing the funding.
Jessica Stonebarger, vice president of Harvest Time, stated the funding from the city was used to fund its maps which last year distributed more than 50,000 maps.
"Our 50 plus members bring more than 200,000 plus visitors to the city of Brentwood every harvest season with many visitors filling in the downtown," said Stonebarger.
She added that removal of the funding would force them to counter that action with raising fees on their members/associate members while possibly be forced to charge an entry fee to their Harvest Time Festival to make up the funding.
"We think we have done an exceptional job at marketing our members along with the city of Brentwood in a positive light," said Stonebarger. "Removing our funding would not only effect our members, but it would also begin to effect the businesses and the citizens of Brentwood. Historically, we felt we have had a positive relationship with the city council and city which has included an open line of communication. With the lack of Ag committee meetings this year, we feel like the communication has fallen off. We are hopefully for a special Ag committee meeting to discuss other possibilities that would satisfy all parties involved and other items that have come to light in this process."
Jessica Enos spoke on behalf of President Steve Gursky who was unable to attend and that she would read a letter. She noted that she believed there was a misunderstanding between Rarey and Gursky and she was confident that Mr. Gursky would not be okay with the defunding of the grant.
Enos read the letter which stated that Harvest Time feels their benefit has far outweighed the cost of the grant funds saying how Harvest Time brings hundreds of thousands of people to the region. They have had 30,000 downloads of their app and hundreds of thousands of hits on their website.
Gursky stated in his letter that they were asking the council to reconsider eliminating the funding program or postpone the decision to allow time for more discussion to improve communication.
Enos stated that it was hard to see where the council was coming from in defunding the grant.
"To use councilwoman Rarey's words of pushing us out, its hard to see that not it when the funding that is our big driver for getting these visitor is the funding that is looked at being taken away," said Enos.
Erick Stonebarger, a former City Councilmember, provided a history of Harvest Time which started with 9-farmers in 1976 and explained how the funding was decided on and where it came from. He explained how they launched an app, however, people did not embrace the app and still preferred the map.
"They embraced the map still, they open it up, see the blue dots, and figure out where they want to go," explained Stonebarger. "I think its counter-intuitive of what we all think would happened, the map kinda stayed true and they still liked it. It gets a tremendous amount of people."
He noted that when he left the city council, the $15,000 was a good number of where to leave it because it was fairly sustainable because there is $1.2 million in the fund and they are granting Harvest Time funds through the interest paid.
"It's a sustainable program," said Stonebarger. "It would be a shame to take a successful 40-year program that brings in 200,000 people into this region every single year and fire them. They have done a very job sustaining it."
Stonebarger stated he welcomed the City of Brentwood trying to build infrastructure and business enhancement for agriculture, but that they shouldn't fire the most successful program they had ever had.
"I would suggest a good path would be getting them back to the $15,000 for the next 3-years and if the business ag-business program gets momentum and takes off, great, stop the funding if there is another source for them to get the funding, but if it doesn't take off, that is okay, continue to fund it," said Stonebarger. "It's okay to fund a successful program, that is a smart use of our money."
He closed by criticizing comments made by councilwoman Rarey.
"Its tough to leave this podium and agree with we are embracing you, we are not pushing you out into the cold, and we need to help you. However, we just fired you," said Stonebarger.
Vice Mayor Joel Bryant stated he understood what the Agricultural Committee had in mind by bringing it into a new process that may be more beneficial but he agreed with the speakers.
"This map program is far and way the most successful outside of Brentwood advertising and draw, that Brentwood has partnered with anyone to accomplish," said Bryant. "No one has any question that agriculture is the cornerstone that caused Brentwood to be attractive."
Bryant stated that a conversation with Harvest Time was warranted to find out how they can continue to integrate funding of the map with the new expanded benefit with the new program.
"I personally really can't see a benefit in stopping this map, seeing that. The idea of phasing it out, that was the conversation in 2010, everyone is going to love the app, everything is going to be great. That just isn't how things have worked," stated Bryant. "We are doing more than shooting ourselves in the foot, we are cutting our throat if we stop funding this map."
Council Member Balwinder "Bailey" Grewal called Harvest Time a great program that is a big draw that brings business to the city. He wanted to ensure whatever they do was sustainable. He recommended in the short-time, they continue working with Harvest Time to become self-sustainable.
Councilmember Staton stated that after hearing all the comments today, she didn't realize Harvest Time brought such a large number of people to Brentwood. She also stated her love of the map and how it was a good tool to promote Brentwood.
"I am listening to all of you and I hear your concern, I don't know how we change this because I am new at all this, but lets keep it going for the next couple of years and phase it out because by that time we don't know what is going to happen with modern technology," said Staton.
Councilwoman Rarey motioned that they continue this item at a future meeting.
Mayor Bob Taylor stated more discussion was needed to do the right thing for the farming community and the city.
"I am not in a position tonight to call for a vote to cut funding off from Harvest Time, that is just not going to happen," said Taylor.
The council then voted unanimously to table the item for a later date and would have future discussions with Harvest Time.