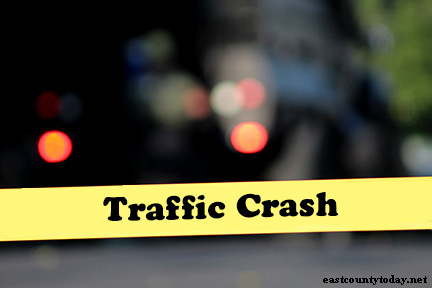 At 1:30 am Friday, Contra Costa County firefighters responded to Driftwood Drive and Steffa St in Bay Point for a report of a traffic crash with rescue.
Upon arrival, crews located a vehicle on its roof after it apparently struck a light pole and wires were down in the area. The crash also caused street flooding after striking a water pipe.
The roadway was shut down in both directions by 1:46 am per the California Highway Patrol.
By 3:02 am, the northbound lane was open. It's unclear if there were any injuries.
No further information was available.
Here is the CHP Log:
Detail Information
3:02 AM
24
[85] 19-E2 NB LN OPEN
2:39 AM
23
[73] [Notification] [CHP]-PUBLIC WORK ETA 45- 1 HOURS
2:34 AM
22
[68] [Notification] [CHP]-1039 COCO SO FOR CORDS ** THEY WILL CB W/ ETA
2:29 AM
21
[63] 1039 COUNTY HOSP / NEG WALK INS / LOG # GIVEN
2:13 AM
20
[53] 1039 COCO SO FOR CORDS
2:11 AM
19
[52] 19-S22 NOTF CORDS — WILL HAVE TO COME OUT ASAP / LIGHT POLE IS DOWN – ENTIRE CONCRETE BASE IS OUT / SPRINKLER HEAD BUSTED CAUSING WATER TO GO INTO THE RDWY
1:53 AM
18
[48] [Rotation Request Comment] 1039 Jess Hernandez Tow / 925.432.3000 / SD 223 CPYS ON ITS SIDE
1:51 AM
17
[47] [Rotation Request Comment] 1021 EAST COUNTY TOW / 925.439.1141 NEG TK AVL
1:49 AM
16
[43] [Rotation Request Comment] 1021 Cupertino Tow ANT / NEG TK AVL
1:48 AM
15
[40] 19-E2 START 1185 FOR A VEHS ON ITS SIDE
1:46 AM
14
[36] 19-E2 RDWY SHUT DOWN IN BOTH DIRECTIONS
1:44 AM
13
[33] 1039 COCO SO
1:42 AM
12
[26] ALSO HIT A WATERPIPE AND IS FLOODING STEFFA ST
1:39 AM
11
[20] HFA AND HMA ARE OUT OF VEH AND SITTING ON THE SIDEWALK
1:39 AM
10
[19] SMOKE COMING FROM THE VEH
1:39 AM
9
[18] LIGHT POLE IS DOWN IN THE ST POSS LIVE WIRES
1:39 AM
8
[17] VEH VS LIGHT POLE
1:38 AM
7
[15] ALL THE OCCUPANTS ARE OUT OF THE VEH
1:38 AM
6
[14] RP IS STOPPED IN HIS OWN VEH / MAZDA ON STEFFA
1:37 AM
5
[11] 1039 1141
1:37 AM
4
[10] BLOCKING THE ROAD
1:37 AM
3
[6] TRAPPED IN THE VEH
1:37 AM
2
[2] NOONE MOVING ING THE VEH
1:36 AM
1
[1] VEH ON ITS ROOF