SACRAMENTO, CA – Assemblymember Jim Frazier (D-Discovery Bay) last week honored 93-year-old Enrico E. "Rico" Cinquini of Oakley, who served in the U.S. Marine Corps in the Pacific Theater and China during World War II, as Assembly District 11's Veteran of the Year for 2017.
Cinquini was Frazier's guest at the Capitol for the California State Assembly Veterans Affairs Committee's 10th Annual Veterans Recognition Luncheon.
"Rico is a shining example of the how those in our armed forces step up to answer the call to service and then keep serving our country and their communities when they return home," Frazier said. "Rico is always among the first people to step forward when needs arise in Oakley, whether that is supporting kids, commerce or civic causes. You will find no one more committed to bettering his community than my friend and World War II veteran, Rico Cinquini."
The only child of San Francisco residents Orlando (a World War I veteran) and Argia Cinquini, Rico Cinquini was 18 years old when he enlisted in the U.S. Marine Corps in December 1942.
Assigned to the First Marine Division Headquarters after his superiors learned he could type, he also saw extreme combat, surviving four amphibious landings, at New Guinea, Cape Gloucester, Peleliu and Okinawa.
"I'm one of the lucky guys," Cinquini said. "I made four landings. If you make one landing and live, you are lucky."
At Peleliu, he was among 250 survivors of more than 1,000 men who were part of his landing group. He served as a runner for then-Col. Lewis "Chesty" Puller, who would go on to become a Lieutenant General and be recognized as the most highly decorated Marine in U.S. history.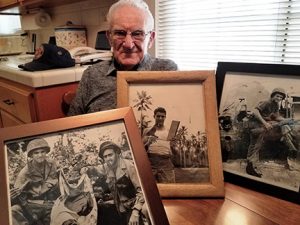 Cinquini treasures a trio of photographs of himself taken during the war. One is with his unit's unofficial mascot, a parakeet he rescued and named "Beat'em." Another was taken on Cape Gloucester by a war correspondent, who asked him to climb atop a shot-up Japanese airplane. The third was taken in a ditch on  Peleliu by famed San Francisco Chronicle photographer Joe Rosenthal, who later won a Pulitzer Prize for his photo "Raising the Flag on Iwo Jima."
Cinquini finished his service in China and was discharged as a corporal in December 1945. He returned to California, married his sweetheart, Rose, and moved to her hometown of Oakley. There, he co-owned a Rexall Drug Store for a few years, then became a Realtor – a profession in which he remains active. In fact, he was 1987 Delta Association of REALTORS' Realtor of the Year. He and his wife, who died in 2009, raised two daughters, Anna and Ricci Ann.
A former volunteer firefighter and eventual fire commissioner, Mr. Cinquini also worked on several committees that helped his beloved City of Oakley to incorporate. He continues to serve today as a Diablo Water District director.
Known for his philanthropy and deep commitment to public service, he was Oakley's 1992 Citizen of the Year and earned a Lifetime Achievement Award in 2003. In 2008, he received Oakley Chamber of Commerce's first Pioneer Award, a fitting tribute to the founder of the city's first Businessman's Association.
It's only in the last decade that Mr. Cinquini, a member of the Veterans of Foreign Wars, has talked openly about his military service, but as more and more World War II veterans pass away, he believes it is important to share their history. "I didn't want to appear like bragging," he said of his previous silence, "but now I think it should be told."
Not long ago, he and a friend were in public talking about Pearl Harbor and he heard a young woman behind him ask her friend, "What is Pearl Harbor?"
"We take these stories and we die with them," Cinquini said. "Now I feel I need to tell my story or I will die and take it with me."
Assemblymember Frazier will host an in-district reception for his Veteran of the Year from 5 to 6:30 p.m. Thursday, July 6, at the Diablo Valley Farm Center, 3020 Second Street, Knightsen. To RSVP for the reception, call (925) 513-0411.
* * *
Assemblymember Jim Frazier represents the 11th Assembly District, which includes the communities of Antioch, Bethel Island, Birds Landing, Brentwood, Byron, Collinsville, Discovery Bay, Fairfield, Isleton, Knightsen, Locke, Oakley, Pittsburg (partial), Rio Vista, Suisun City, Travis AFB, Vacaville and Walnut Grove. To contact Assemblymember Frazier please visit his website at www.asmdc.org/frazier or call his District Offices at 707-399-3011 or 925-513-0411. Follow Assemblymember Jim Frazier on Facebook and "Like" him for updates on events and happenings in the 11th AD.