At 12:33 pm Friday, the Antioch Police Department responded to a report of multiple shots fired in front of Lone Tree Elementary School at the intersection of Mokelumne Drive and Prewett Ranch Drive.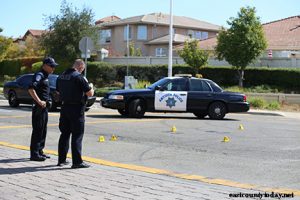 The shooting put Lone Tree Elementary on a brief lock-down as police investigated the scene. Although students and staff heard the gunshots, no one was injured at the school.
According to police, these appears to be isolated with the driver of a black Dodge Charger being the target with at least four gunshots shot into the vehicle.
The roadway was briefly blocked while police investigated the scene and reopened by about 1:15 pm. No further information was provided on scene.
2:28 pm Update issued by APD
On 10/5/2018 at 12:33pm, Antioch Police Officers were dispatched to the area of Lone Tree Elementary School for a report of several gunshots heard in the area. Arriving Officers located a vehicle that had been struck by gunfire at the intersection of Prewett Ranch Drive and Mokelumne Drive. The driver and sole occupant of the vehicle, a 19 year Antioch resident, was not injured and remained on scene. During the initial investigation, it was determined that the victim was targeted by the assailants, who at this time are unknown. They were last seen fleeing the area in a mid-2000's, gray Honda or Acura sedan.
As a precaution, Lone Tree Elementary School was placed on lock-down for a short period of time while this incident was investigated. It was determined that the school's staff and students were not involved in the incident and the school was not struck by gunfire.
Anyone with information about this incident is asked to call the Antioch Police Department nonemergency line at (925)778-2441. You may also text-a-tip to 274637 (CRIMES) using the key word ANTIOCH.
This preliminary information is made available by the Field Services Bureau. Any further inquiries into the status of this case should be made via the Media Access Line at (925) 779-6874.