On October 19, the City of Antioch will bring The Red Sand Project to the city to raise awareness of Human Trafficking.
The event is being championed by City Councilwoman Monica Wilson who has become passionate in raising awareness on the topic after realizing just how prevalent it has become—including multiple incidents in Antioch and within the County.
During the event, participants will pick up a package which includes red sand, and use that sand to fill cracks in sidewalks. The goal is to symbolically bring attention to the cracks that victims of human trafficking can slip through, while helping people understand how this issue impacts communities.
"Human trafficking is something that falls in the cracks, people will show up and receive a bag of red sand and you put it in the cracks. People will then see the sand in the cracks and question why it is there.  We will also be training people on how to not only identify, but how they can report it to authorities," explained Wilson. "Our goal is the event will spark awareness and debate regarding human trafficking and its various forms."
Wilson says she became involved in raising awareness and fighting to prevent human trafficking after learning a friend was once a victim.
"She spoke about her horrific experience," said Wilson. "The more she spoke about it the more I wanted to learn how I could work to help prevent it. I began researching and saw just how dark it can be because it can happen to anybody at any time. Men, women, its people of all races, ages, and walks of life. It's also not just limited to sex trafficking, but there is wage and other various forms."
In 2016, the National Human Trafficking Hotline received 1,323 reported cases of human trafficking in California
According to Wilson, Antioch has about 5 cases reported of human trafficking crimes each year–including a girl who was located in San Diego after being reported she was missing. Meanwhile, in Brentwood, most recently in June, the Golden Dragon and the Golden Dragon Buffet in Brentwood had three sentenced to state prison for wage theft, tax fraud and insurance fraud.
Wilson added that on October 24, the City of Antioch will be bringing forward an ordinance in the City banning hourly rate hotels/motels which could draw human tracking. The ordinance is aimed to be a tool for the police department.  The City of Oakley is looking into a similar ordinance.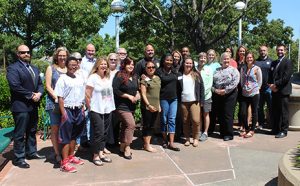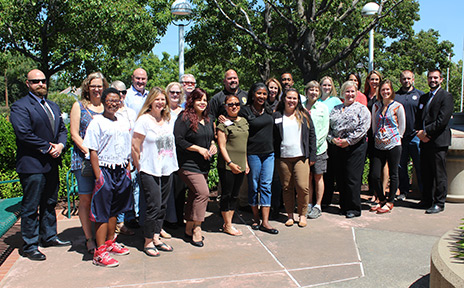 Back in June, the Contra Costa County Human Trafficking Coalition, in collaboration with the District Attorney's Office, worked with local law enforcement agencies to raise awareness of human trafficking in East Contra Costa County.
Coalition volunteers broke into small teams and departed and personally visit specified businesses, providing them with posters that include hotline numbers to seek help, in addition to information on how to recognize human trafficking.
Wilson credits Antioch Police Chief Tammany Brooks who has been supportive about working to prevent human trafficking of all forms. They are currently working on new ways to create preventative measures and better educate the community on how to report it.
According to Wilson, one of the pieces of advice came from Antioch Police Captain Diane Aguinaga who basically told her to report everything suspicious.
"She said we would rather come out and investigate it and it not be what we thought rather than not come and the victim turns up dead," explained Wilson. "So if you see something, report it."
She noted an example of a flight attendant on an Alaska Airlines flight out of Seattle who used a secret message to rescue a girl from human trafficking. When the plane landed down in San Francisco, police were waiting for the man in the terminal.
Wilson said she has had people share their experiences with her and she called it life changing.
"I've had two people who have shared their experience with me. I welcome people telling their story and any story I hear about I hold in confidence, but keep in mind victims are always frightened. They are threatened either physically, mentally, they become drugged, they become indentured servants," said Wilson.  "Traffickers will stalk their victims; recruit in other younger victims to recruit. One high schooler will recruit another. One young woman who her trafficker kidnapped her, look I will kill you if you don't recruited her younger sister after a threat of if you don't I'll kill both of you. Her younger sister was brought in. It's a horror story. Sometimes its kids selling magazines later at night or people selling fruit on the side of the road, it's a form of indentured servants. Sometimes people are forced into it because they have had their paperwork stolen and are afraid of authorities. It can be anything."
The event is open to the community and anyone interested in learning about human trafficking may sign up for the training seminar.
For more information:
Date: October 19
Time: 4:00 pm to 8:00 pm
Location: Antioch Community Center (4703 Lone Tree Way)
Facebook Page: Antioch Red Sand Project
For more information and to register, here is the event page: https://www.eventbrite.com/e/red-sand-project-antioch-tickets-37885074277