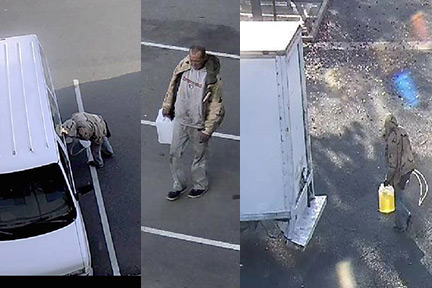 On Thursday, December 28, 2017, it was reported to the Office of the Sheriff that gas was from siphoned from a Contra Costa County vehicle. The theft apparently occurred on Christmas morning at about 8:47 AM at a parking lot on the 4500 block of Delta Fair Boulevard in Antioch.
This location is the Contra Costa County's Employment and Human Services Department.
In the series of photos, the suspect is seen walking in the parking lot, siphoning gas from the county vehicle, walking back to his vehicle with the gas, and then taking off. The suspect's vehicle is a white box truck.
Anyone with any tips or information on the suspect or his vehicle is asked to call the Sheriff's Office at – 925-370-5192. You can also email: [email protected] or call 866-846-3592 to leave an anonymous voice message.