An Antioch police officer battling Hodgkin's Lymphoma Stage 3B Cancer has the support of her entire department as fundraising efforts on her behalf have started.
Detective Meghan Miller, who has been with Antioch Police for 17-years is currently undergoing chemotherapy in an effort to defeat the cancer and cannot work while she is receiving treatment.
According to Corporal James Stenger there are two scheduled events that benefit Officer Miller.
The first, on September 13, officers will come together to shave their heads in solidarity—this event will be private for officers where barbers and hair stylists are donating their time for the BBQ event in the police parking lot. Other police departments are invited to participate.
Then on November 4, there will be a $50 buy-in Texas Holdem Poker Tournament at the Antioch Community Center which includes dinner—you may also choose to purchase dinner for $20. The event will raise money to help Officer Miller financially while fighting this disease.
"Meghan is one of the nicest human beings that there is. She will drop everything she has going on at a dime for people. She is an excellent police officer and been a great detective. We love her. She is such a nice person," said Cpl. Stenger. "She does so much for everybody. She goes out of her way to help not only our other officers, but others in the community, She rallies people to help others and now we want to rally to help her."
According to Officer Meghan Miller, she noticed a bump on the back of her neck in June of this year and by July 7 she says she was diagnosed. August 9 was her first round of chemotherapy.
"They were not messing around and got right to work, I am grateful for the treatment so far," said Miller. "Treatment is every other week and in total there will be 12-treatments and if all goes well, I hope to be done by February. I've not yet had the conversation with my doctors of when I can go back to work, but I miss it and I just want to get it over with and go back to work."
Miller, who was hired in May of 2000 worked in patrol for 16-years and seven as a K9 officer with Obee, a German shepherd. Last year, she was promoted into investigations where she works as the domestic violence detective.
"There is nothing remarkable about me, I am a very ordinary cop like everybody else. We have some others in the department who are really remarkable in the work they do. But everybody has been super generous to me and it's been great," said Miller. "What is remarkable to me is how amazing Antioch Police have been in helping my husband and I in any way possible you could imagine. I wish the public could see that."
For Miller, she misses the work and working with the involved cases because she was having success in closing cases while helping local families in the process.
"I am missing investigations. I feel like the domestic violence spot is a very important spot and was just getting good at it when I got sick. I was learning from so many of how to put cases together properly, I miss the work. I miss working cases that patrol works, I finished the process and working with good people. I am happy to bring those cases to the District Attorney and see people stand trial for heinous things," said Miller. "I miss the investigative unit. Those are some amazingly hard working people."
Miller says she also misses the camaraderie and seeing everyone each day while highlighting how she wished the community could see the sense of humor and how down to earth many of the officers actually are.
"I can't tell you how many people have checked in, I don't think not one person has texted me from the department. The things they have texted me with is amazing and uplifting. They are keeping my spirits up. So many are praying for me, sending me support, I have found so much comfort, courage and strength from all of them and their families—even the wives and husbands," explained Miller. "Wherever I go, I feel like I am surrounding by support and love, its overwhelming. Cops can be such lone wolves going from call to call, but I wish people could see this part of them and know how they have embraced me from the chief down to the newest guy."
She noted that she has had more tears from kindness of the community than she could remember whether it was from flowers being sent, meals being provided or people just donating to help her.
"I almost feel embarrassed, I don't want the spotlight on me, but it's been amazing. My family is in tears over it. My family is touched knowing that if I need something at the drop of the hat our guys are there for me," said Miller who also credited the community. "What is surprising to me is so many people have made nice comments on Facebook, some of them I have helped, and some are complete strangers wishing me well. It's a meaningful and fabulous surprise the community members are supporting me. I take great comfort in that."
Miller explained that right now, although what she is going through is no picnic, her symptoms are manageable but points out she understands so many others are suffering much worse than she is as far as cancer treatment goes because every case is different and patients are at different stages.
"My prognosis is good, I just have to hold onto that as we go day by day," said Miller.
Antioch Police Chief Tammany Brooks called Miller a "fighter" and "tough" saying she will overcome this.
"When I found out, I was devastated," said Brooks. "Its always hard when news likes this strikes close to home and someone who like family.  But Meghan is a fighter and I believe she will come out on top and overcome this and beat this."
Brooks says that he has had the pleasure of supervising Miller when he was a patrol sergeant and said brings enthusiasm to the job everyday of trying to make things better for everyone.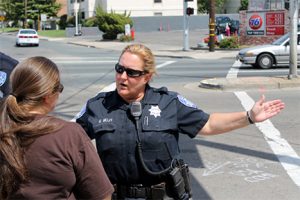 "She is a great police officer and someone who has always gone above and beyond for our community," said Brooks. "Her enthusiastic and fun loving nature is infectious, you rarely see Meghan without a smile on her face and that has done a lot for our department over the years. She is always positive, trying to build other people up, and always there for not only our officers but those in the community as well."
Brooks also thanked his entire department and the community for their support for Miller.
"This is not surprising because our community has a culture of taking care of one another whether it's an officer or someone in the community; we all step for one another in their time of need. We are a family in times like this," said Brooks.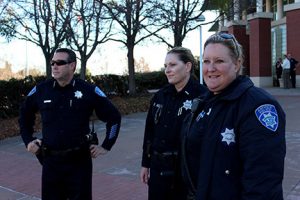 Miller is trying to stay positive while fighting the good fight and says the Oncology team at Kaiser has been amazing.
"Sometimes when you go to the doctor, you feel like they have to get to their next patient, I've never been with more patient friendly people who have indicated they are not running to another patient," said Miller. "It's not a one in one out, I've never had the sense that they are trying to get onto the next person, they make you feel like you have a good shot."
Miller says although she cannot thank everyone in person because there are way to many to name and thank, but highlighted there are so many people doing nice things she feels like she has a big heavy chain pulling her uphill and that its amazing.
She added that once she is done fighting the cancer, she plans to go back to work at some point next year.
"My goal is to come back and I hope I am right. Maybe it's a crazy dream, I don't know, but my goal is to retire from the police force on my own terms," said Miller. "I miss being on a team and even though I am away from them they are making me feel like I am still on the team.  I love Antioch, I love serving the city and catching bad guys and getting them out of our city, I plan on doing that again."
For those who wish to donate, a GoFundMe account has also been established.
To participate in the Texas Holdem Tournament, click here for more information.