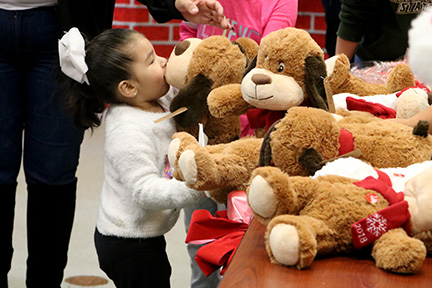 On Saturday, the Antioch Police hosted their annual Holiday Drive where police officers and volunteers handed out food, toys, stuffed animals and a turkey to 105 families.
Police utilized their community room and decorated a portion of it to allow for photographs with Santa for kids. Children were then provided a stuffed animal and age appropriate toys followed by a family each receiving food and a turkey.
The non-profit White Pony Express, Pleasant Hill,  also participated in the event by providing warm coats and clothing for families.
According to Police Chief Tammany Brooks, officers throughout the department adopted several families this year on top of the Holiday Drive. Officers delivered presents and other goodies throughout the past week.
Here are a few photos from Saturday: