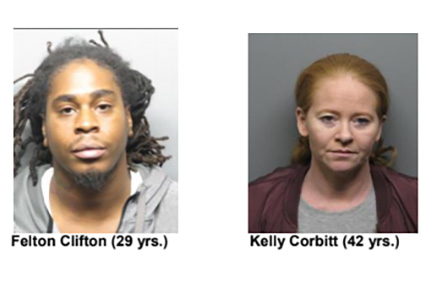 The Antioch Police Department announced Thursday the arrest of two individuals in connection with a February 21 shooting homicide of Alvin Crane, 32.
Felton Clifton, 29 of Concord was identified as the shooter and was arrested for murder by Antioch Police on May 31 in the City of Concord. Meanwhile, Kelly Corbitt, 42 of Richmond, was arrested for murder on June 6 in the City of Emeryville.
On February 21, 2018 at approximately 7:59 pm, Antioch Police Department officers were dispatched to the 900 block of W. 3rd Street on the report of a shooting. Upon arrival officers located two gunshot victims. One victim was Crane who was critically wounded and passed away at the scene. The second victim was an adult female who was also critically wounded.
The Contra Costa District Attorney's Office has filed murder charges against both Clifton and Corbitt. Anybody with information regarding the murder is encouraged to call Detective Gonzalez at (925)779-6923.