On Thursday May 4, Contra Costa County firefighters responded to a report of smoke coming from a home in the 4100 block of Folsom Drive in Antioch.
Engine 88 arrived on scene just after 6:00 pm reporting heavy smoke and fire from the second floor window of a two-story home. E88 made access through the front door and reported multiple set fires within the structure as well as exits blocked and wedged shut.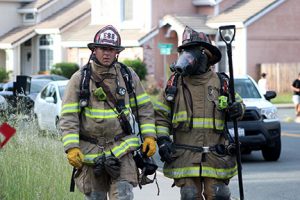 According to Battalion Chief Jim Huntze, this made it very challenging to reach the seat of the fire.  Fire crews quickly initiated fire suppression with hose lines from the exterior of the home in a defensive posture.
Crews transitioned to an interior fire attack and conducted searches.  One upstairs bedroom was completed consumed by fire. The other upstairs bedrooms sustained smoke and fire damage.
Huntze said lighter fluid was poured onto all the mattresses in the upstairs bedrooms and set on fire.   Three family members were displaced from their home.
According to the fire investigator, they found several set fires throughout the first and second floor of the house and the fire was determined to be arson.
The incident shutdown Folsom Drive at Wildhorse for several hours with Antioch Police providing traffic control.
No injuries occurred to firefighters or civilians.