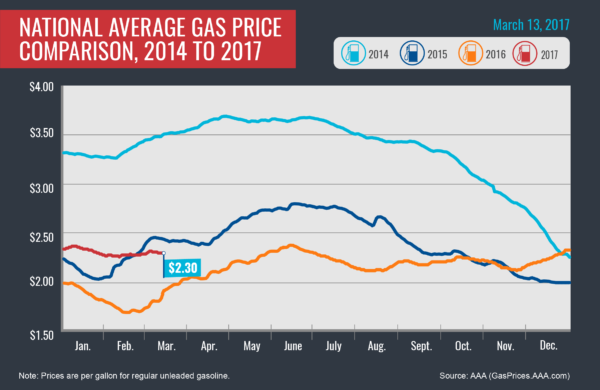 According to AAA, after remaining relatively flat, the national average price for regular unleaded gasoline has now fallen for 10 straight days to today's average of $2.30 per gallon.
Today's national average is one cent less than one week ago and two cents more than one month ago. Compared to this same date last year, consumers are paying 37 cents more per gallon at the pump.
In California, the average cost for a gallon of gas was $3.01.
Gas prices may continue to drop in the near future due to declining crude oil prices and a well-supplied market, but will begin to creep up again over the next month due to seasonal refinery maintenance and the May 1 required switchover for producing summer-blend gasoline.  This prediction comes with the necessary caveat that an unexpected market-moving event, such as unplanned domestic refinery maintenance or further production cuts from OPEC and non-OPEC countries, could further impact prices and supply.
Locally, via Gas Buddy, here is a look at the cost at the pump:
Antioch – $2.67 (Costco –Vern Roberts Circle)
Antioch – $2.85 (Arco – Contra Loma & Buchanan)
Brentwood – $2.69 (Arco – Lone Tree & Empire)
Concord – $2.59 (Arco – Willow Pass & Farm Bureau Road)
Discovery Bay – $2.71 (Safeway – SR-4 & Bixler)
Oakley – $2.67 (Arco – Main St & Cypress)
Oakley – $3.09 (Chevron – Neroly & Main St)
Pittsburg – $2.59 (Arco – W. Leland & San Marco)
Pittsburg – $2.85 (Valero  – Railroad & E. 10th)