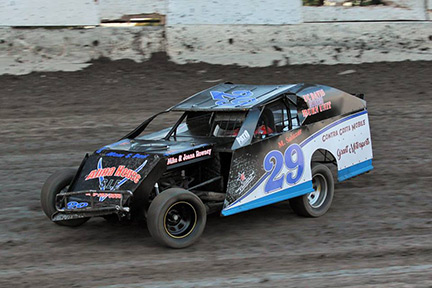 Antioch, CA — The 58th consecutive season of racing at Antioch Speedway is set to begin this Saturday night. Now in their 21st season as promoters, John and Donna Soares are presenting an exciting lineup of All Star Series racing on the 3/8th Mile clay oval.
The Wingless Spec Sprint division kicks off their 20th season at the Contra Costa County based racing facility, headlining the five division show along with A Modifieds, B Modifieds, Hobby Stocks and Dwarf Cars.
The Wingless Spec Sprint division featured one of the closest battles at the speedway last year, won by Bryan Grier. The underdog in the battle was division original Rick Panfili, who has been competing in this class every season since it began. Panfili crashed in final race after contact, leaving his car severely damaged. Thanks to some good sponsorship and a little help from others, Panfili was at the practice two weeks ago and is ready for the opener.
Past champion Bob Newberry was at times unstoppable last season, but a late start kept him out of championship contention and forced him to settle for a still very close third. Newberry may very well be the man to beat if he has his sights set on the championship this year. Another driver to watch will be the steady Shannon Newton, who finished fourth last year with a season high second place finish. Much like Panfili, Newton is hoping to get his first victory. Others to watch for include Allen Miranda, Roy Fisher, Brandon Burd, James East and last year's top rookie, Abigail Gonderman.
For whatever reason, second generation racer Bobby Motts Jr seems to be slipping in under the radar. Considering he won the A Modified championship last year and won over 20 Main Events as a past Street Stock champion at the track, this just shouldn't be. Motts won his Modified title last year by a solid margin ahead of another second generation racer with Vallejo Speedway ties, Sean O'Gara.
Eric Berendsen might seem an unlikely Top 3 driver. Though he was underfunded, Eric continued to make every race last year despite the bad luck he had, and he was the top rookie in this class. Eric will be hoping for better things this year, including his first Main Event win. Another driver to watch will be fellow Top 5 ranked competitor Mike Salazar. If a hard luck driver award were handed out last season, Mike might have been the winner. Whatever happens, he always brings a positive attitude to the speedway.
All eyes will be on division mainstay Scott Busby. Nobody has won more Main Events in this division than the five time champion. At the moment, Busby is tied atop the all time winner's list in Antioch Speedway history with the legendary J.D. Willis. Both drivers have 72 wins. While Busby did the lion's Share of his winning in Modifieds, Willis won his Main Events in multiple eras driving Stock Cars, Sportsmans and Modifieds.
The B Modified division should see two of its biggest stars of the past two seasons, reigning champion K.C. Keller and 2016 champion Trevor Clymens. Promoter John Soares has already decreed that this division will compete for $500 to win when 18 cars show up to race, and there are several cars being prepared this season.
Chuck Golden is hungry for his first win after finishing as high as second last season in what ended up being a third place point effort. Another driver to watch for who had multiple second place finishes last season is second generation competitor Nick Caughman Jr. Like Kenny Neu, Caughman was fast last year, but bad luck served to derail his efforts to get a win. Other drivers to watch for this week include Kevin Brown, Randy Brown, Tim Hammett, Guy Ahlwardt and last year's top rookie, Todd Gomez.
The Hobby Stock division was the most active class on the roster last season, and they've been scheduled 26 times in what will be a marathon season this year. Brent Curran won top rookie honors last year, and he's moving up to the B Modified class. Reigning champion Cameron Swank is anticipated this season. He was seen driving the Travis Tabucchi Chevelle on New Years, but we haven't heard what car he'll run this season. It certainly would be interesting to see somebody making a run for the division championship in a non Camaro.
After his car was demolished in a crash at Watsonville, 2010 champion Chris Sorensen has a new car from the shops of Baker Motorsports. Last year's third ranked competitor, Chris Bennett, has landed some new sponsorship as he sets his sights on his first career Main Event victory in the Bob Hanson Tribute car. The one driver who could make things very interesting in the championship race is multi time champion Melissa Meyers, who won four times in her limited starts last season.
The Hobby Stock class boasts a roster well into the 30s, though it will be challenging for the drivers to make the entire season with such a busy schedule. Billy Garner has the old Jim Freethy car as he is aiming for his first win. A two time winner last season, Michael Cooper will be another driver to keep an eye on, as will his teammate, Jordan Swank. Frank Furtado, Ken Rhoades, Angela Brown, Lindsay Buirch, Anthony Vigna and Joey Ridgeway are other drivers to watch for.
The Dwarf Car division begins its 21st campaign with a wide open race anticipated for the championship. Mike Corsaro was always exciting to watch last season in winning his first championship. Though he took a nasty tumble one week that kept him out of the Main Event, he usually finished in the Top 3 and had several wins. Corsaro could be the driver to beat, but the father-son duo of David Rosa and David Michael Rosa hope to have something to say about that. The elder Rosa racked up more Street Stock Main Event wins than anybody in that division's history at over 40, while his son is looking for his first win. David Michael finished second three times last year.
Another driver to watch in the quest for victory is last year's second ranked driver and top rookie in the field, Devan Kammermann. Devan adapted well in his move up from the Quarter Midgets, and he seemed to get better as the season progressed last year. Longtime Dwarf Car competitor Charlie Correia, Chris Becker, Brian Gray, 2016 champion Kevin Miraglio and Chuck Conover are among the other drivers to watch for this week.
The drivers are excited about getting their cars back on the track in racing conditions, and Saturday is shaping up to be a great night from start to finish.
For further information, go to www.antiochspeedway.com.
2018 Antioch Speedway Schedule
Subject To Change
January 1 – (Winter Classic) – A Modifieds, B Modifieds*, Hobby Socks and Dwarf Cas
March 24 – Wingless Spec Sprints, A Modifieds, B Modifieds, Hobby Stocks and Dwarf Cars March 31 – 360 Winged Sprints, Late Models, A Modifieds, B Modifieds* and Hobby Stocks
April 7 – West Coast Dwarf Car Series plus B Modifieds and Hobby Stocks
April 14 – Larry Damitz Memorial Races – Wingless Spec Sprints, A Modifieds, Limited Late Models, Hobby Stocks and Dwarf Cars
April 21 – Wingless Spec Sprints, A Modifieds, B Modifieds, Limited Late Models and Hobby Stocks
April 28 – Late Models, B Modifieds*, Hobby Stocks, Dwarf Cars and Bay Area Hardtops
May 5 – Wingless Spec Sprints, A Modifieds, Limited Late Models, Hobby Stocks, Dwarf Cars and a Drone air race
May 12 – A Modifieds, B Modifieds, Limited Late Models, Hobby Stocks and Dwarf Cars
May 19 – Contra Costa County Fair – No racing scheduled
May 26- 360 Winged Sprints, A Modifieds, B Modifieds*, Hobby Stocks and Dwarf Cars
June 2 – Wingless Spec Sprints, Late Models, B Modifieds, Limited Late Models and Hobby Stocks
June 9 – Jerry Hetrick Memorial Races – 360 Winged Sprints, A Modifieds, B Modifieds, Hobby Stocks and Dwarf Cars
June 16 – 360 Winged Sprints, A Modifieds, B Modifieds, Hobby Stocks and Dwarf Cars
June 23 – 360 Winged Sprints, B Modifieds, Limited Late Models, Hobby Stocks and Dwarf Cars
June 30 – Firecracker 50 (50 lap race for B Modifieds $500 to win) – Wingless Spec Sprints, A Modifieds, B Modifieds* 50 lapper, Limited Late Models and Hobby Stocks
July 7 – ($500 to win B Modified And Hobby Stock races) – Wingless Spec Sprints, B Modifieds $500 to win, Limited Late Models, Hobby Stocks $500 to win, Dwarf Cars and Drone air race
July 14 – Wingless Spec Sprints, A Modifieds, B Modifieds, Hobby Stocks an Dwarf Cars
July 21 – Late Models, Limited Late Models, B Modifieds, Hobby Stocks and Bay Area Hardtops
July 28 – 360 Winged Sprints, Wingless Spec Sprints, A Modifieds, B Modifieds* and Dwarf Cars
August 4 – 360 Winged Sprints, A Modifieds, B Modifieds, Limited Late Models and Dwarf Cars
August 11 – Wingless Spec Sprints, Late Models, A Modifieds, Limited Late Models and Hobby Stocks
August 18 – 360 Winged Sprints, A Modifieds, Limited Late Models, Hobby Stocks and Dwarf Cars
August 25 – Wingless Spec Sprints, Late Models, B Modifieds*, Limited Late Models and Hobby Stocks
September 1 – 360 Winged Sprints, A Modifieds, B Modifieds, Hobby Stocks and Dwarf Cars
September 8 – (Chet Thomson Memorial Hardop Race) – Late Models, A Modifieds, Limited Late Models, Hobby Stocks, Dwarf Cars and Bay Area Hardtops
September 15 – (John Soares Sr. Memorial Top Dog Race) – Late Models, A Modifieds, Limited Late Models, Hobby Stocks and Dwarf Cars
September 22 – Wingless Spec Sprints, Late Models, B Modifieds*, Limited Late Models and Hobby Stocks
September 29 – 360 Winged Sprints, Late Models, Hobby Stocks and Dwarf Cars
October 6 – 360 Winged Sprints, Wingless Spec Sprints, Limited Late Models and Bay Area Hardtops
October 13 (Fall Brawl 2018 Finale PPV) – A Modifieds, B Modifieds*, Limited Late Models, Hobby Stocks and Dwarf Cars
* Sharp Shooter B Modified Race
2017 Antioch Speedway Points
All Star Series
Winged 360 Sprints
Art McCarthy 437
Marissa Polizzi 428
Bert Foland Jr. 406
Jacob Tuttle 258
Jason Paniagua 236
David Dias 208
Jenna Frazier 205
Aaron Miller 203
Jake Haulot 192
Kyle Offill 150
Wingless Spec Sprints
Bryan Grier 498
Rick Panfili 480
Bob Newberry 472
Shannon Newton 460
Alan Miranda 399
Roy Fisher 380
Abigail Gonderman 350
Robert Floyd 338
Brandon Burd 302
James East 246
A Modifieds
Bobby Motts Jr. 484
Sean O'Gara 418
Eric Berendsen 375
Mike Salazar 348
Scott Busby 348
Nick DeCarlo 278
Kellen Chadwick 244
Gary Hetrick 218
Anthony Slaney 200
Greg MacElhaney 199
B Modifieds
K.C. Keller 802
Mark Garner 736
Chuck Golden 692
Trevor Clymens 640
Kevin Brown 500
Randy Brown 356
Todd Gomez 345
Doff Cooksey 264
Nick Caughman Jr. 252
Guy Alwardt 248
Limited Late Models
Kimo Oreta 576
Jim Freethy 550
Mark Garner 544
Mike Gustafson 528
John Evans 456
Chad Hammer 388
Buddy Kniss 305
Jeff Kendrick 209
Lori Brown 164
Jon Haney 157
DIRTcar Late Models
Jeff Decker 526
David Newquist 438
Shawn DeForest 436
Richard Papenhausen 423
Kimo Oreta 393
Dennis Souza 370
Joey Olschowka 309
Paul Guglielmoni 271
Chester Kniss 238
Mike Hynes 224
Hobby Stocks
Cameron Swank 837
Brent Curran 822
Chris Bennett 754
Chris Sorensen 723
Jon Haney 718
Chris Long 660
Billy Garner 597
Michael Cooper 586
Jordan Swank 515
Frank Furtado 488
Dwarf Cars
Mike Corsaro 585
Devin Kammermann 518
David Michael Rosa 512
David Rosa 502
Chris Becker 437
Charlie Correia 375
Brian Gray 335
Kevin Miraglio 328
David Corsaro 326
Chuck Conover 300